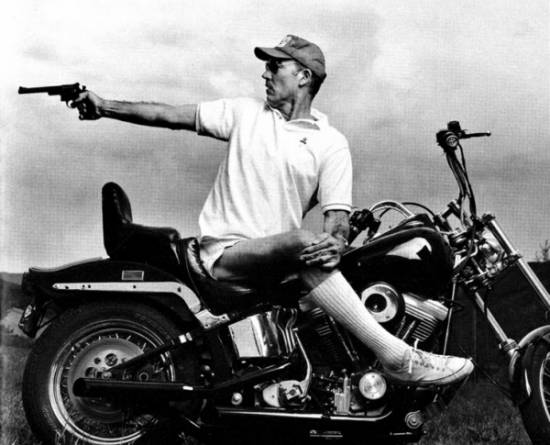 We have seen weird Times in this country before, but the year 2000 is beginning to look super weird. This time there really is nobody flying the plane ... we are living in dangerously weird times now. Smart people just shrug and admit they're dazed and confused. The only ones left with any confidence at all are the New Dumb. It is the beginning of the end of our world as we knew it. Doom is the operative ethic.
The autumn months are never a calm time in America. Back to Work, Back to Football Practice, etc....Autumn is a very Traditional period, a time of strong Rituals and the celebrating of strange annual holidays like Halloween and Satanism and the fateful Harvest Moon, which can have ominous implications for some people.
Autumn is always a time of Fear and Greed and Hoarding for the winter coming on. Debt collectors are active on old people and fleece the weak and helpless. They want to lay in enough cash to weather the known horrors of January and February. There is always a rash of kidnapping and abductions of schoolchildren in the football months. Preteens of both sexes are traditionally seized and grabbed off the streets by gangs of organized perverts who traditionally give them as Christmas gifts to each other to be personal sex slaves and playthings.
Most of these things are obviously Wrong and Evil and Ugly — but at least they are Traditional. They will happen. Your driveway will ice over, your furnace will blow up, and you will be rammed in traffic by an uninsured driver in a stolen car.
But what the hell? That's why we have Insurance, eh? And the Inevitability of these nightmares is what makes them so reassuring. Life will go on, for good or ill. But some things are forever, right? The structure may be a little Crooked, but the foundations are still strong and unshakable.
Ho ho. Think again, buster. Look around you.
--
HST